Garden Redesign - Phase Two!
10-12-2019
The garden looked a bit of a mess whilst waiting for Jack and his team from
Silvermere Gardens and Landscapes
to come and complete phase 2. We had tentatively agreed the end of September prior to us going on a few days' holiday at the start of October. Jack rang the week before to say they had been asked to do a few extra things on their current job and, knowing we were going away, would it be OK to delay starting until we got back rather than rush the job. We wanted to be here when they were working on it so were more than happy to delay - which actually turned out to be a really good thing!
We had considered moving out of Weybridge to Petersfield a year or so ago (wanting a work room and veg patch was all part of the move), had put the house on the market and seriously started looking. We couldn't find anywhere we liked and seemed to be trying to make properties 'fit' our needs. In the end we decided to stay put for a few more years whilst we reviewed our options and that's where the 'garden redesign' originally stemmed from. We started considering other areas of the country for various reasons but always came back to our love of the Jurassic Coast and realised we both actually had a lot of friends in the area as well as friends who had moved there from Weybridge. We took a look at what was for sale and there was a house in the exact village we want to live in! A 'plot twist' (as my co-coach
Janey Holliday
and I call it) was about to happen. As we were going to the Isles of Scilly for our holiday it made sense to book a viewing on the way back. Needless to say we loved the property - lots of work to do but it 'felt' right. If we wanted it then it would of course mean putting our house back on the market. Hmmm... dilemma: what did we do about the garden and my workshop? Should we go ahead and spend the money for a potential new owner to simply knock it down to do an extension or leave the garden in the mess that it was?
We contacted our original estate agent the next day for advice - Jack and his team were due to start on the garden the follwing Monday, this was Wednesday! The general consensus was to go ahead with the landscaping, as that would help with the sale of the house, but delay the workshop being built (make that phase 3 if we didn't get the house we wanted in Devon). I called Jack straight away and he agreed it would make perfect sense.
The 'team' of Jack, Terry, Jack 2 and Lewis arrived early on a very wet Monday morning and set to work clearing all the rocks out of the rockery, cutting down the old confier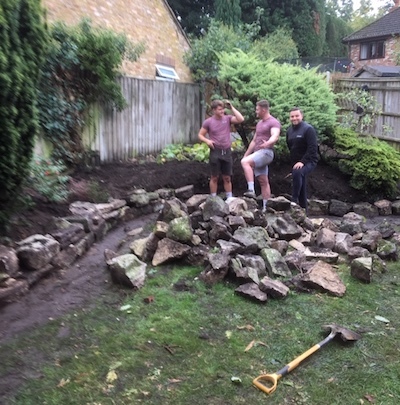 tree, digging out the roots and removing the old patio stones at the top of the garden. (A neighbour wanted some of the slabs for his allotment so a few of them got recycled.) By the time I took the 'workers' a second cuppa the pile of rocks had grown somewhat and they were well on their way to clearing the garden. None of us could believe there were so many rocks hidden away in the rockery! Next time I looked the garden had been dug back and the rustic, dry stone-type wall was already under construction. I wanted to have a dry stone effect wall, rather than one held together by mortar/cement for a couple of reasons. It would allow me to plant lots of interesting, flowering plants and even strawberries in the wall that would grow over and down it, attracting all sorts of bees and insects once in bloom. The wall would also provide some natural 'bug hotels' for the insects to hide away in over the winter months.
Each morning the 'team' arrived before 8 o' clock and got to work sorting out who was doing what, whilst I made the first 'cuppa' of the day. I kept asking if they'd prefer coffee, as they would arrive with takeaway coffees, and once I clarified that we only had 'proper coffee' in our house their orders switched from tea to coffee, which I was more than happy to make. Watching them it was clear to see that they worked incredibly well as a team, each knowing their role and who was doing what. The steps were built by Terry whilst Jack and Jack 2 set about building the raised vegetable bed (not flower bed as I kept reminding Jack!) with Lewis just knowing what each would need: cement mixing, slab stones, tools etc. The final thing to be done was the laying of the new lawn - something Clive (my husband) couldn't wait to see! We love a real (not artificial) lawn in a garden because it helps with water drainage when it rains, allows the worms to keep the soil healthy and that in turn means the birds can reach the worms and eat! Aside from that Clive, loves to get outside and cut the grass - the one job he does in the garden without asking!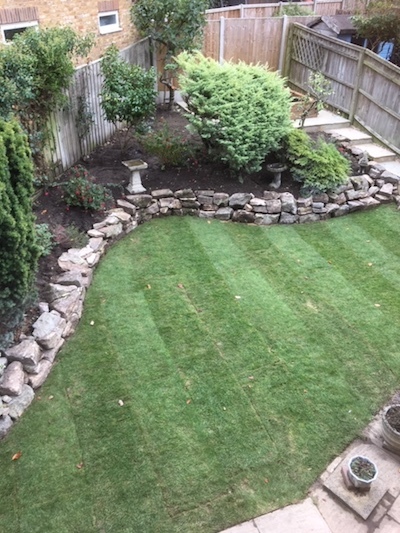 By the end of the week the garden was complete and unrecognisable from the day we decided to start removing the conifers to make room for a workshop (still pending as I write this) and I had my raised bed to grow a few more vegetables. There are still new bushes, plants and fruit trees to be planted in the spring to fill in a few gaps and hide the raised bed from the lawn as they mature, but I love my new garden. The rhubarb has already been transplanted from its pot into the corner of the vegetable bed and I can't wait to start planting my vegetables in the spring. We may move before they grow but it will give some other family a chance to experience fresh fruit and vegetables and maybe, just maybe persuade them to keep the raised bed as I realise (from feedback on some viewings) it's not what everyone would want in their garden. But then not eveyone is me, doing my little bit for the planet! The space for the workshop is currently bare but ready, if we don't move, to have Jack and his team back to build it.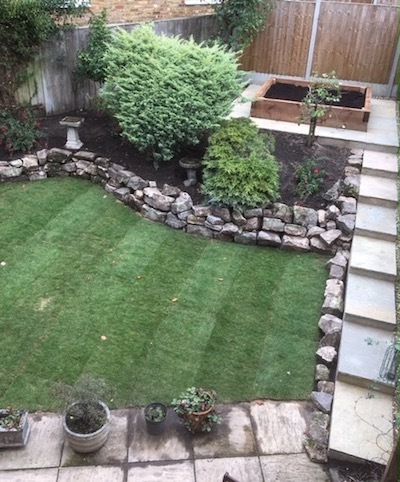 Finally I would like to say a big thank you to Jack, Terry, Jack 2 and Lewis (who loves choc chip Hobnobs!) of
Silvermere Gardens and Landscapes
for taking my vision and making it a stress-free reality for me. There will always be coffee, biscuits and whatever home-made cake I happen to have made on offer if you ever fancy doing a garden in Devon.
< back to listings