Re-designing the Garden
30-08-2019
Wanting to have a small fruit and veg patch in the garden, as well as a workroom for me to do my up-cycling and various other projects, would mean a complete overhaul of our back garden. It was originally laid out to be a rockery and obviously initially planted with a number of small conifers and bushes. Over the years these bushes have grown upwards and outwards and our garden is now full of overgrown conifers and various other bushes all fighting for space in the rockery area. There is also large patch of odd shaped land to the side of our house which currently has, amongst other things: a small shed, compost bins, wheelbarrow and 2 large bushes hiding a pile of garden rubbish.
I began crawling amongst the conifers, only to find some dead ones hidden in amongst them, to see if by removing some we could create the space for a raised bed. I believed if we did remove some conifers there would be ample room, and worse case scenario if I removed them and there wasn't room then I would simply have thinned them out. Next came the decision: could we put a shed at the side of the house (or as I'm calling it my SHE'ed workroom) and if so where? Out with the tape measure to get the dimensions of the current shed and the vacant area. Hmmm... with the odd shape how could we fit one in? Move the current shed here or there maybe to create room? If we did move it we were concerned it might not survive - if you saw our shed you'd understand why!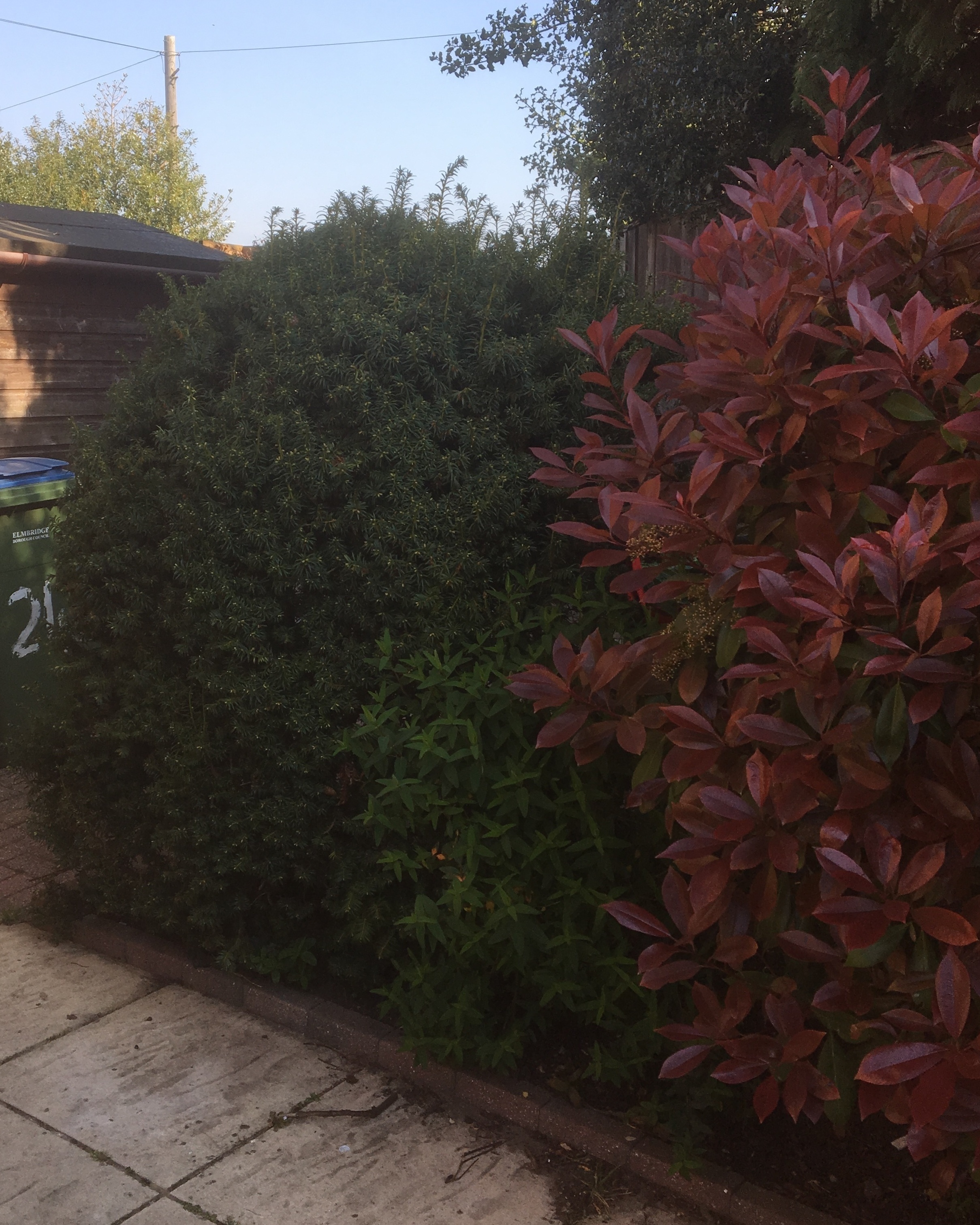 What we really needed to easily resolve the dilemma was a shed to fit the plot. If I've remembered my mathematical shapes correctly, it is what is known as an 'obtuse trapezoid' shape, i.e. one that has one side longer than the other so creating an angle on the 3rd side. This would mean that the shed would fit neatly against the fence along our narrowing garden. All we needed to do was to buy it. There were lots of people advertising that they made 'bespoke sheds' so should be easy to find one. Yeah right! Their defintion of bespoke was not quite the same as ours, basically it meant you choose a shape they already have (usually a square or rectangle) and then you can decide on the size, style of roof, style of door/s and windows and where you want them in the available shape. Time to call the experts in and get some new ideas on what we could do.

Whilst arranging for people to come and give us some quotes and ideas I started to remove the conifers. First I attacked the trees and bushes that had died and were fairly easy to cut down and pull out the roots. Then came the job of tackling the larger trees and bushes. Cutting down the branches was the easy part, then came the fun and games of digging out the roots. Previous experience of such things had taught me to start digging away from the base of the tree and, as each root was located, to dig around it and where necessary cut it. You then slowly work your way around the tree / bush until you believe all roots have been located and either dug out or cut, then you push and pull on the trunk (that you have left purely for that reason) because there will always be one or two tap roots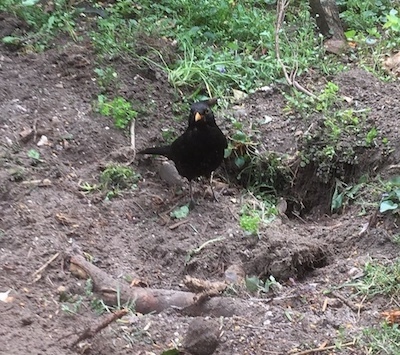 hidden from sight! The more I was in the garden the more I had an interested blackbird for company - I'd like to think he was
spurring me on but of course I was uncovering bugs and insects for him. Each time i was out there he became braver and crept ever closer to me, finally hopping in the hole cl
ose to me and looking up as if to say: "Well what are you stopping for? Keep going!". At one point he became incredibly brave and even hopped onto the trowel I was using to dig under the roots to expose them and had a look under the root for me. As I chopped things down and dug out the roots I dragged all the green waste down the garden and piled them up by the shed.
Meanwhile a few garden designers had come out and given us various ideas. Again we realised that there were various types of people describing themselves as able to do garden design from designers who understood about plants and designing the garden to those who really only knew how to do the hard landscaping and really weren't much help on giving us ideas or a new design. Finally we found a local company who answered everything we wanted and actually came up with the answers to our problems before we even asked. I was totally won over when he said, "The easiest thing to do here is to leave your existing shed where it is and for us to build you a solid bespoke workshop with shelves where you want them that will fit in this space (indicating the odd shape space) and you can chose the door size, windows and where they go." AND they wanted to recycle the large number of rockery stones we have hidden in the garden to build our new wall and my raised fruit and veg bed to save buying new materials. It was music to my ears and fitted totally with my plan to do my bit for the planet. We had a budget and when the quote came in it was slightly over but we managed to agree some tweaks to the design to keep to the budget. They had warned us there was a wait if we wanted them to do the work. We were happy to wait and they are due to start at the end of September.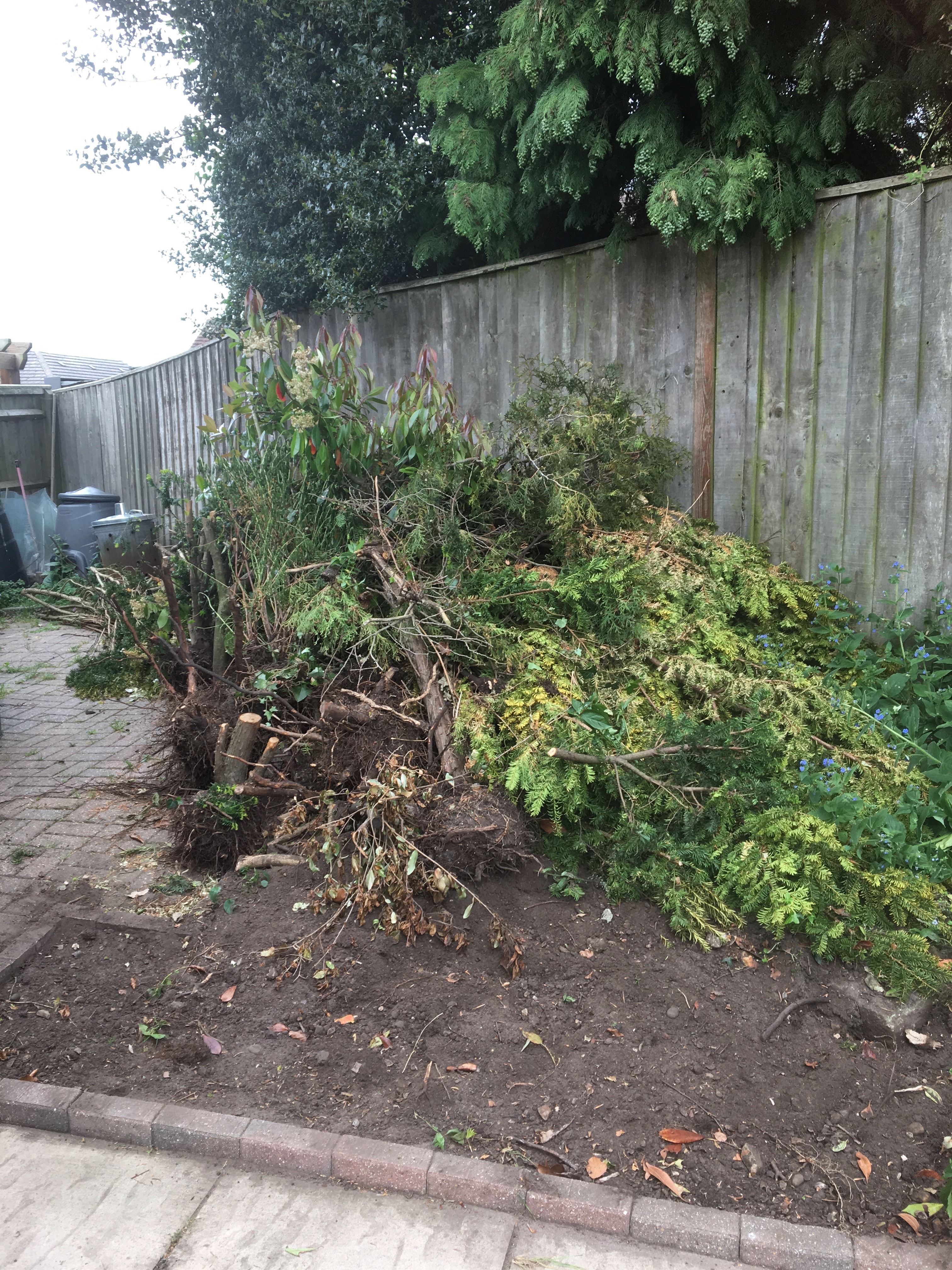 In the meantime my pile of garden waste was growing ever larger and spreading behind the shed as more and more large roots and trunks were being dug out. Please note: this is the same view as the first photo in this blog except I have removed the two bushes to make way for the new SHE'ed and the ever growing pile of garden waste! I'd got the knack of doing it - patience is definitely required - and at the same time I was getting a great workout physically, both cardio and strength-wise. Who needs a gym when you have a garden to tend to?! It soon became obvious that the 'pile' was far too big to simply do a few runs to the recycling centre (commonly known as the tip) and the size of some of the roots meant they wouldn't actually fit in the boot of the car. It seemed a skip would be required and I started looking at the cost of hiring one. But then I remembered Andy and his team from
Old England Tree Care
who had previously been and trimmed some of our neighbour's trees. I gave them a ring and after he had come round to see the pile of stuff, his team came and within minutes had shredded and taken away all the garden waste for half the price of hiring a skip. Job done and we're ready for the landscaping team to arrive at the end of September. Watch this space for my blog showing the progress of the garden and SHE'ed taking shape.
< back to listings